Play Your Way To Prosperity...How to break free from the 9 to 5 world and profit from what you enjoy most! [275 pgs.]
by Jan Gault, Ph.D., Social Psychologist/Empowerment Coach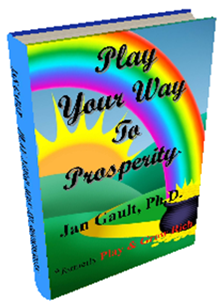 WHAT YOU WILL LEARN...
How to put into practice the elusive qualities that separate the successful from the unsuccessful
Seven new provocative employment yardsticks for solving cash flow until your projects pay off
How to attract riches while doing what you enjoy most
An entrepreneurial style that is 'an art, a dance and a celebration of life', free from grueling, competitive, guerilla tactics
How to create those opportunities that are just right for your personality and special interests
The crucial difference between a hobbyist and a success-bound entrepreneur
Guidelines for a Personal/Business Ethos to keep you on target
The smartest allotment of time in each vital area of your life so that you stay pivoted toward profit and peace of mind
SPECIAL FEATURES...
A dynamic, motivational Entrepreneur Quiz that lets you rate yourself on thirty key elements of success and shows you how to put them into practice
A seven-step method for discovering exactly what money-making projects align with your personality, values and interests
Twenty-one proven 'Time Block' strategies to rapidly advance you toward riches and happiness.
When you have finished reading this book and mastered the 'Time Block' strategies and messages revealed here, you will have the magic ingredients for whatever you want in life.
PACKED WITH BOTH PRACTICAL TIPS AND POWERFUL INSIGHTS FOR PLAYING YOUR WAY TO RICHES!
---
[Book Review of Play Your Way To Prosperity] [Praise from Readers][Table of Contents] [About the Author]
HAWAII ADDRESS
Jan L. Gault, Ph.D.
#75315 Eaton Square, Honolulu, Hawaii 96836
Telephone 808-294-4120
Email: books@DrJan.net

[Books] [Meet Dr. Jan] [Coaching] [Press] [Belief Quiz] [Free Prosperity Gifts] [Inspiration] [Motivational Messages] [Programs] [Clients] [Links] [Contact Us] [Privacy Policy]
Jan Gault International